Do you know what is a focus group in marketing and why it is essential? If you still need to, you are stepping toward your fall in marketing and research.
A scary thought, right? You don't need to be scared anymore because you have landed on the right site. In this article, you will get to know what is meant by a focus group in marketing.
In addition, this article will cover all aspects of a focus group relevant to the marketing field. After reading this article, you will know the benefits of focus groups and how to use them in your marketing strategy.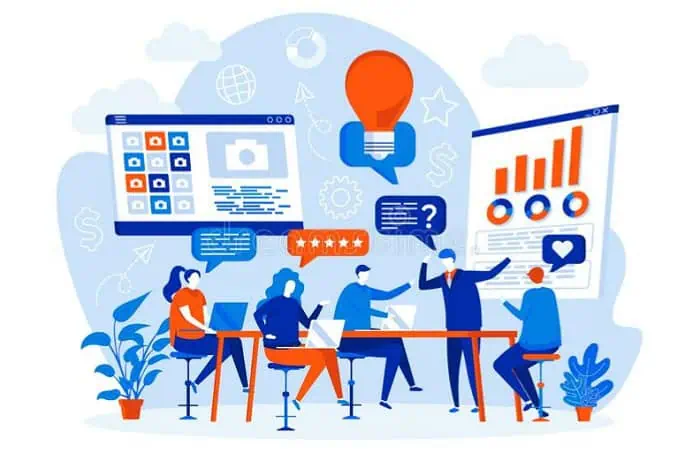 Definition of a Focus Group in Marketing
You are entirely correct if you think it is something to do with a small group of people.
Focus group in marketing is a data collection method. In this method, a small group of people, generally 5 to 10, will participate in a face-to-face interview.
You can use this method to get honest and accurate feedback on any product, concept, service, or ad campaign. Other survey methods are time – consuming and their results sometimes are not satisfactory, which is why this method is beneficial.
In this method, a trained moderator prepares questions and initiates the discussion. Then other group members must present honest reviews on the product, service, or marketing campaign under review.
The moderator records every minute of the discussion sessions. In this way, marketers can get timely reviews on their ad campaigns.
The concept of a focus group in marketing was introduced previously. It emerged as a new and valuable concept in the 1920's era and was used during WWII to record the people's responses to the war. However, it didn't realize its true potential then, and its scale needed to be more significant. It is only in recent years that marketers paid attention to this data collection method and started using it.
Now, it has become an essential part of the marketing and research field. Today marketers use focus groups to record responses even before initiating any new project.
How does it work? 
The focus group aims to get various opinions on an ad campaign or product. While selecting eligible participants, one needs to consider the purchase history of participants with other factors like demographics, behavior, and psychology.
Forming a focus group aims to get timely and various opinions. That is why it selects such people who don't know each other. Also, several focus groups are made in different cities to get more variety in responses to Marketing Agency. Generally, 4 to 5 cities are selected for focus groups.
The ultimate objective of the discussion sessions is to derive different insights on a given product or marketing campaign. Thus to start the session, a trained moderator must begin working on the questions.
The questions must encourage elaborative thoughts and revolve around the topic. While starting the session, the moderator can ask a simple question to ease the participants. After they all are familiar with each other, the moderator can begin asking questions on the discussion topic. Through these questions, the moderator has to encourage and find out the participants' reviews and what they will find better.
At last, the moderator can wrap up the session and take the final thoughts of the participants, and it can include their suggestions and any other relevant ideas they want to share.
Therefore in this way, marketers and companies can get accurate and honest reviews on their marketing campaigns or products.
Variations of Focus Groups
If you think understanding what a focus group in marketing is this simple, then you're mistaken. It would help to consider many more things while selecting the focus group method.
There are wide varieties of focus group methods in marketing, and they have distinct characteristics.
Firstly you need to know the objective behind forming a focus group. After it, you must choose the best suitable focus grouping method for your research. Some of them are as below:
Mini Focus Group- In this focus group, only 4 or 5 people are selected as a focus group.
Client – Participants Focus Group- In this type, a client who wants the responses also participates with other members and leads the discussion as he wants.
Online Focus Group- It is a more convenient method where remote participants can participate in discussions through online video participation.
Two–Way Focus Group- In this method, two groups are simultaneously selected for discussions and have a separate moderator. When the first group discusses, the other will listen; they will share their insights after it ends.
Dueling Moderator Focus Group- In this focus group, two moderators take the opposite side of each other and try to find out more insights.
Benefits of Focus Groups for Research
To understand what is a focus group in marketing, we also need to discuss its advantages. When you know about the benefits, only you can decide whether it's worth consideration.
With a focus group, companies and marketers can get fast and effective reviews on their products and marketing campaigns.
Generally, other methods are time–consuming and don't provide a high degree of satisfaction. But in this method, marketers can lead the discussion and can know what they want to know instantly.
Focus group discussion is easier to organize and get results than other research and survey methods

. 

As this doesn't require large-scale research, it is cheaper and more convenient than other methods. Also, marketers can focus more on their marketing strategy than waste time on responses.
These sorts of discussions are flexible and allow marketers to observe body language and draw insights.
Limitations of Focus Groups
When we are on the subject, it is also helpful to learn the downsides of a focus group in marketing.
A focus group is just a discussion, so there are chances that participants can influence each other. It is possible that some members' reviews can agree with others regardless of their own opinion.
This method involves a small group of people, and the results are based on that discussion. So in some instances, it is not helpful for a large population.
Therefore, to imply the discussion results on many people, marketers need some methods too.
Also, there are chances that some domineering participants can turn the opinion of other group members.
Therefore it is possible that sometimes knowing what is a focus group in marketing will not be helpful.
FAQs
What are some examples of a focus group in marketing?
A: There are many examples of focus groups, like school meetings where parents can share their thoughts. Also, a cosmetics company can discuss the new products in a focus group discussion.
Are focus groups good in research and marketing?
A: There are many benefits of using focus groups as a marketing strategy. It is cheap, convenient, effective, quick and provides accurate and honest reviews.
Conclusion
In this article, we have discussed what a focus group in marketing is and how it is helpful for marketers. Well, there are some limitations, too, and that is why marketers need to be more precious and thorough while using this method to collect data.
If used appropriately, the focus group method is excellent for knowing people's opinions beforehand and improving the product or marketing campaign. Therefore by using focus groups, companies can save their resources and efforts and make their products efficient.