Are you curious about what content strategy in UX entails? In this article, we'll delve into the concept of content strategy in UX, providing insights and practical tips to help you create compelling content. We will examine the ways and reasons that content is crucial to any UX approach.
Content strategy in UX refers to the systematic approach of planning, creating, organizing, and managing content. Some elements of UX content strategy are Editorial Strategy, Experience Design, Structure Engineering, and Process Design. Discover how content strategy in UX plays a crucial role in shaping your content.
This article will equip you with the knowledge to optimize your UX through compelling content. Keep reading.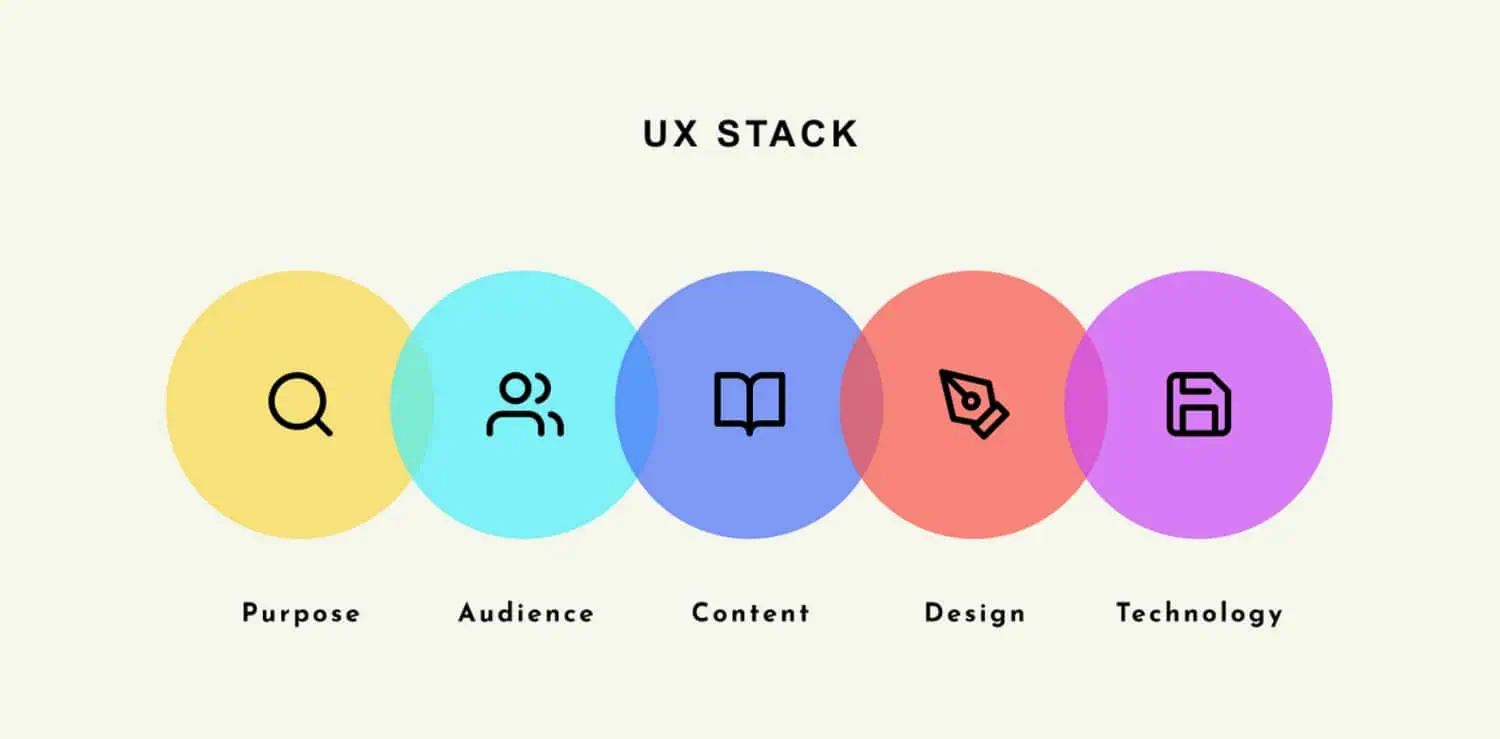 See Also: Content Strategy vs Content Marketing: What's The Difference?
What is the Content Strategy in UX Design?
It aims to offer the appropriate material to the appropriate audience at the appropriate time and in the appropriate way. This means that a successful content strategy depends on the information and how it delivers.
Importance of UX Content Strategy
We have seen  what the content strategy in UX is, and now we will look at its importance:
In the process of UX design, content strategy is crucial. It's crucial to have a plan that works and can produce material that the target audience will find valuable, beneficial, and usable. Such a plan is necessary for the consumers to avoid some inconsistent material, which will ruin their experience in general. Maintaining the content strategy goals in mind and linked with the broader business objectives while working on the user experience of any product or service is crucial.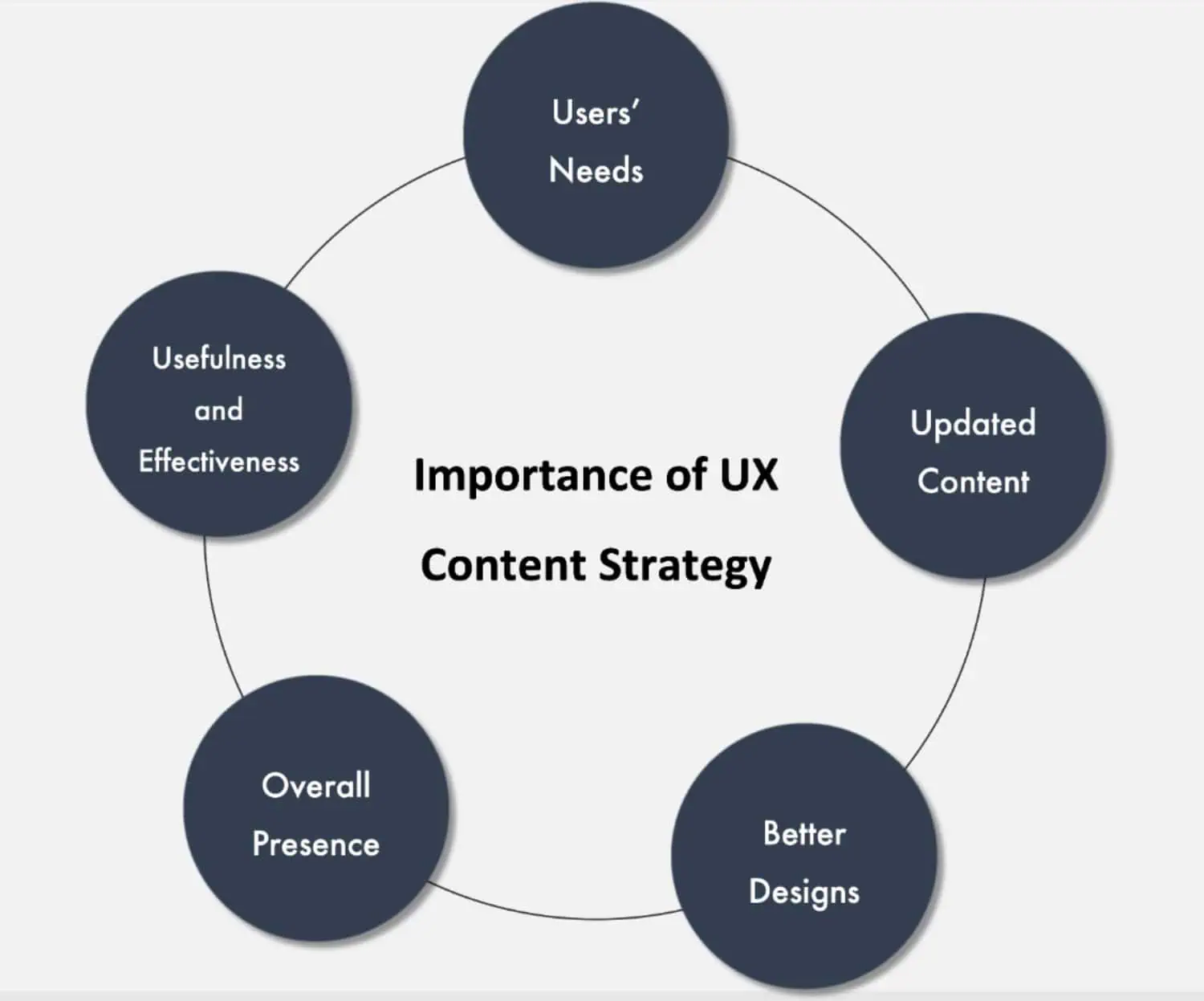 There are six parameters to explain why UX content strategy is essential. They are:
Users Need

Updated Content

Better Design

Overall Presence

Usefulness

Effectiveness
Elements of UX Content Strategy
We have seen "What is the content strategy UX" and its importance. Now, it's time to get aware of the elements of UX content Strategy:
Editorial Strategy
The creation of textual and visual material is the main emphasis of the editorial strategy. Here is where content strategists elicit crucial information about the branding, business objectives, and voice and tone of any created content. Remembering that editing in any company entails tight cooperation with content authors is crucial.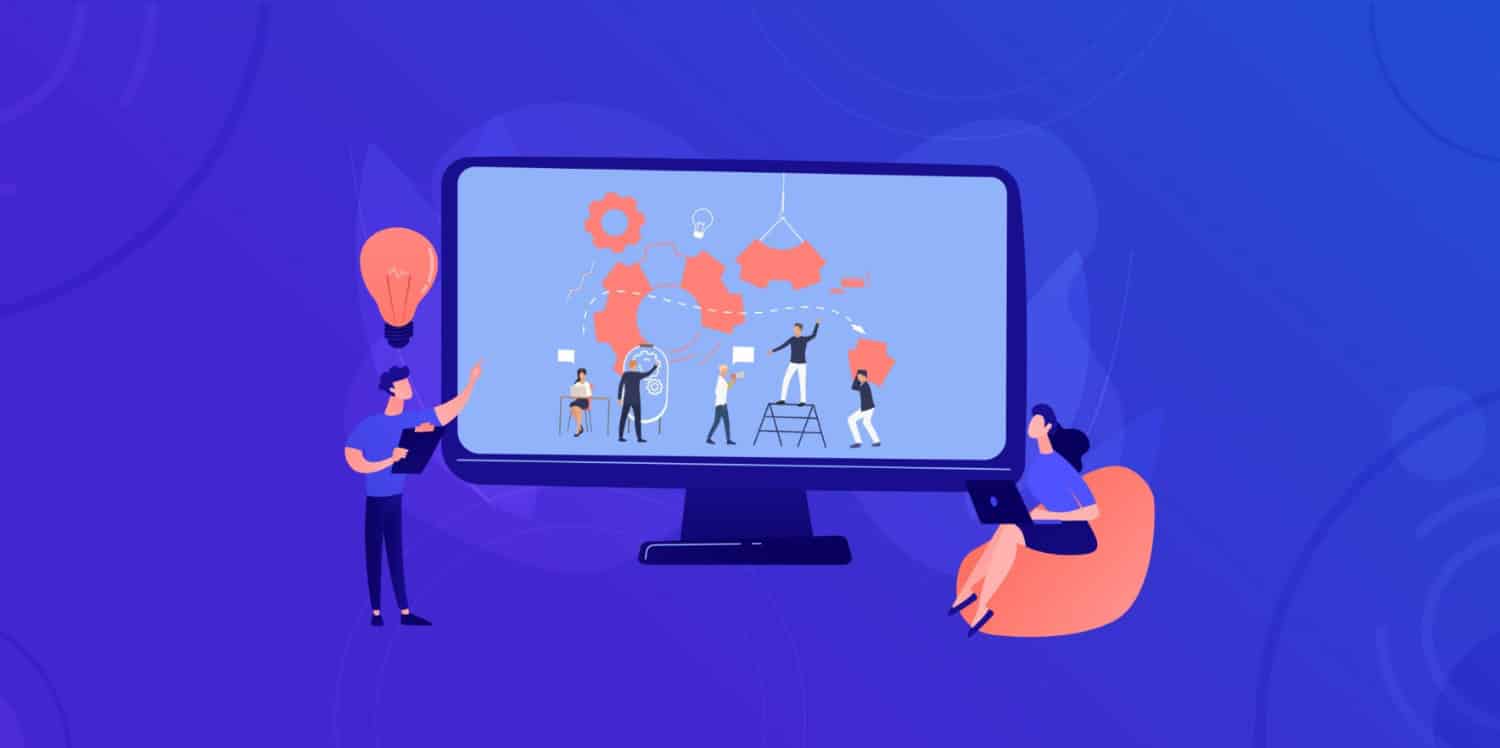 Making a style guide that content authors and editors can use to ensure the efficacy and uniformity of all the material is one method to make this strategy effective.
Experience Design
An additional crucial component of UX content strategy is experience design. At this point, user journey maps and people come into focus. Different audience groups' user experiences examine carefully, and their demands are fully comprehended. User experience is crucial to creating a thorough content strategy because it establishes a solid framework for accessing, sharing, and understanding material.
Content strategists ensure that every touchpoint is considered and that the target audience's overall experience is adequately considered.
Structure Engineering
The arrangement of information is essential to the success of the content system's design. By providing an intuitive framework that matches the needs and expectations of the users, structural engineering aids in making the material accessible for people to engage with.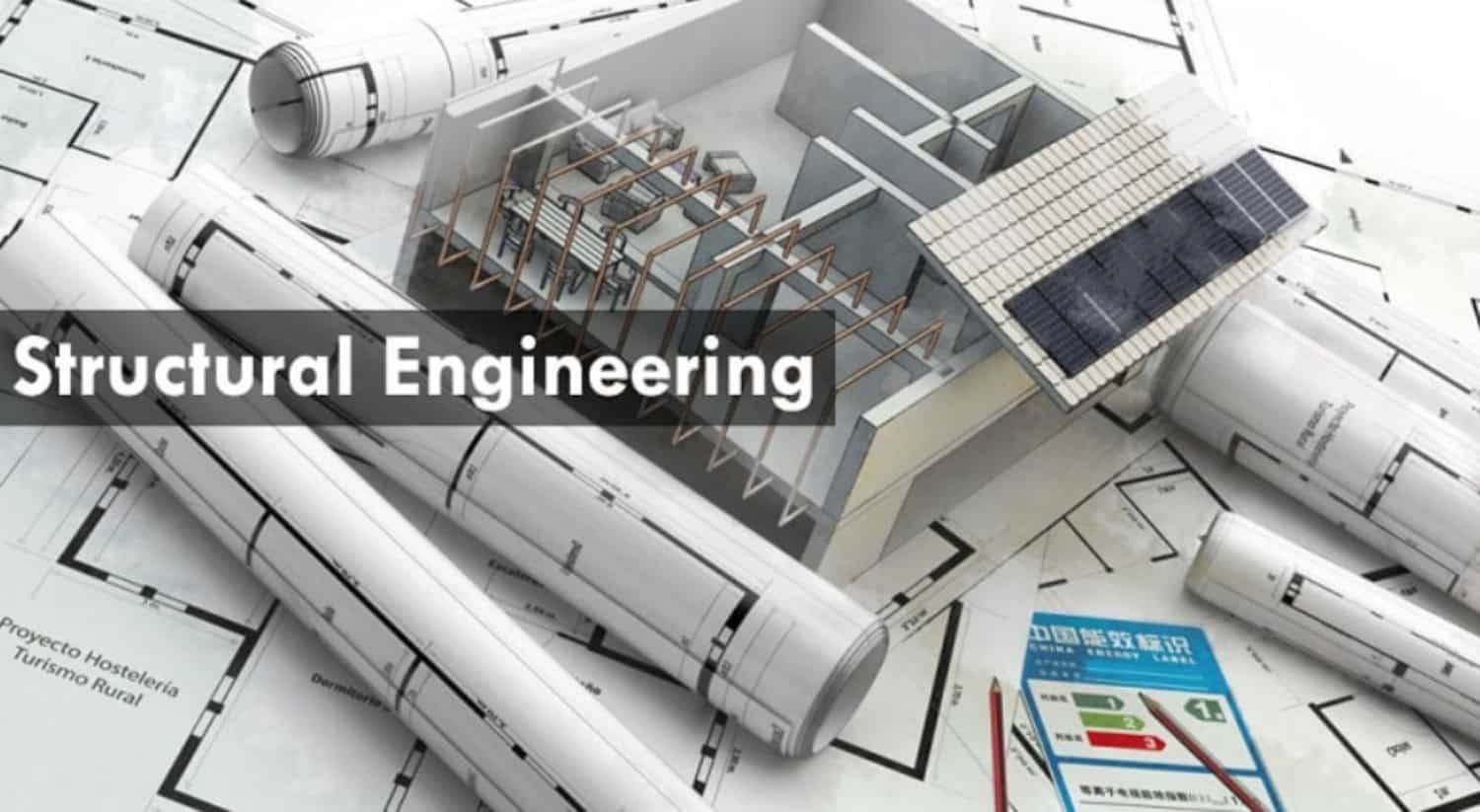 It's crucial to consider whether the information reuses elsewhere to make changes quickly and straightforwardly.
Process Design
Process design concerns how the material produces and distributed within an organization. This interprets as a hierarchy in content governance. For instance, who writes the material, edits it, and approves the finished product? All of these inquiries aid in developing an organized content administration strategy, which may simplify the entire procedure.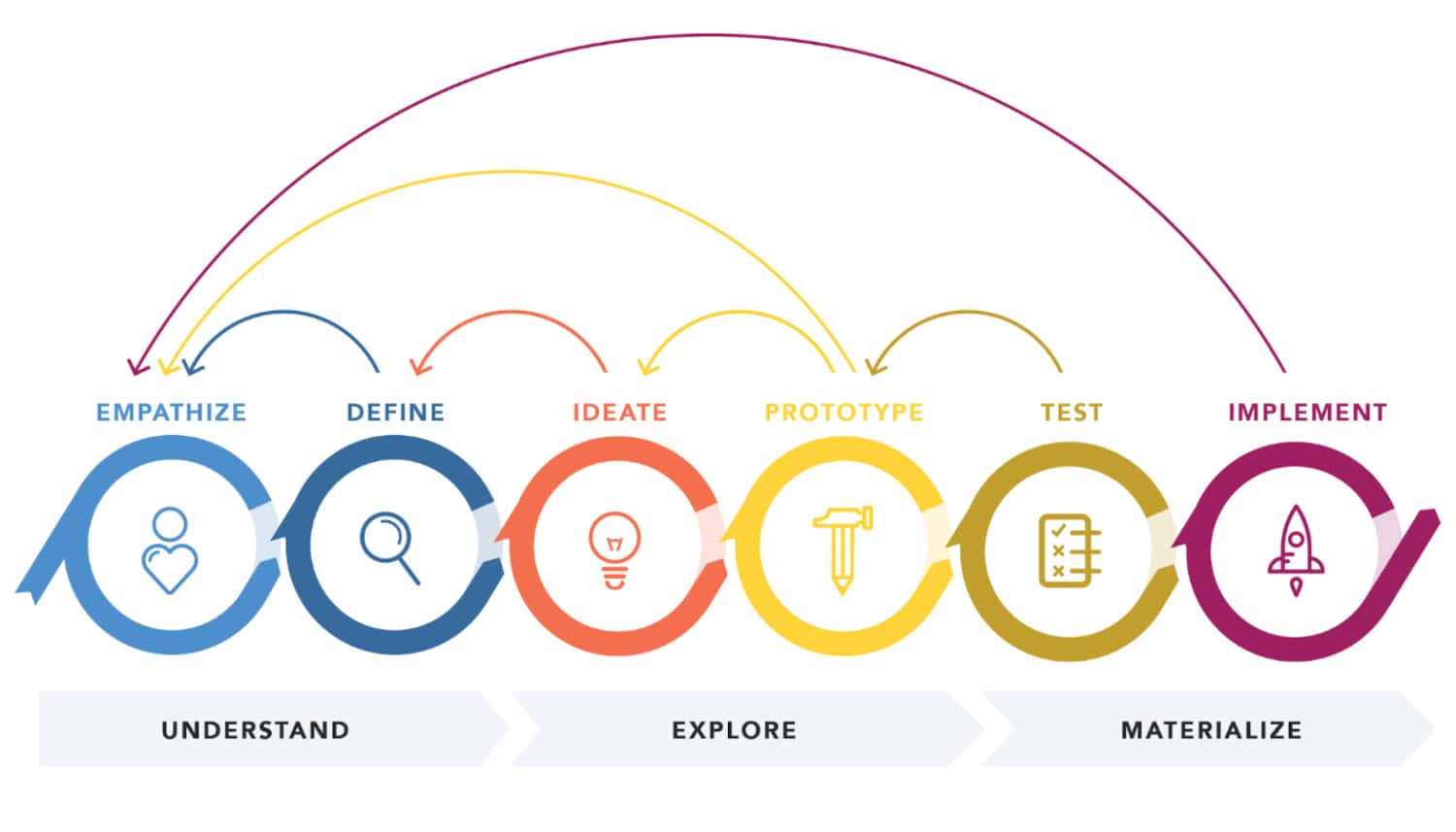 An established procedure also assures responsibility allocation and eliminates any ambiguity around accountability.
See Also: What Are The Types Of Growth Strategies? (Complete Guide)
Major tasks of a UX Content Strategist
A content strategist is an essential member of the UX team in contemporary firms. This position is crucial, especially for larger firms with a sizable consumer base and a large UX design team. A UX content strategist's duties include managing projects, organizing material, and doing research and analysis. A sample UX, content strategist job description reveals that the role necessitates a range of abilities in addition to the standard design knowledge.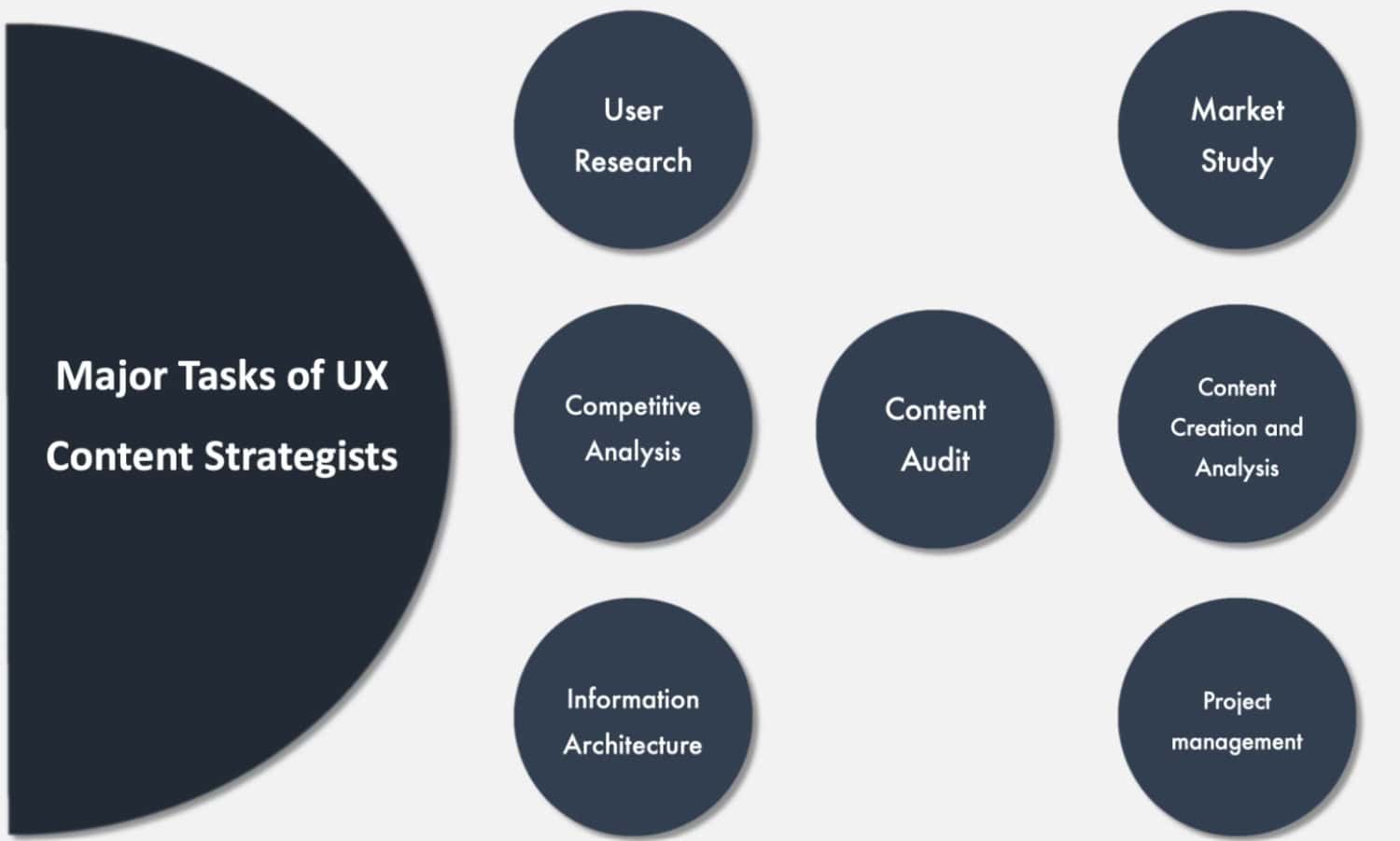 UX content strategists need to be both extraordinarily structured and flexible. They are required to wear several hats for a particular undertaking. In addition to being required to research and evaluate market trends, they must also closely monitor the organization's objectives and the actions of the product development team. In other words, content strategists bridge the outside world and the development world inside the company. The following is a list of the primary duties of a UX content strategist:
User Research

Market Study

Competitive Analysis

Content Audit

Content Creation and Analysis

Information Architecture

Project Management
FAQ's
What does design content strategy entail?
The planning, production, delivery, and control of content are the main topics of content strategy. Content comprises not just the written text on the website but also any pictures and other forms of multimedia.
What should a content strategy contain?
A content strategy framework is a roadmap outlining your content creation approach. A framework may comprise the target audience, the keywords you'll use, the frequency and timing of content publication, and the content creators.
What constitutes the content strategy's nucleus?
What does web design content strategy entail?
The development, distribution, and administration of relevant, usable material are all guided by content strategy. The relevant material must be distributed to the appropriate audience at the appropriate time and location. A user-centered, goal-driven approach to content throughout its lifespan is known as content strategy.
What three elements make up content strategy?
Three essential components—brand focus, user experience, and content distribution—are required for a successful content strategy, according to industry experts.
Conclusion
In any UX project, content planning is a crucial component. The significance of content generation, analysis, and management cannot emphasize, regardless of whether you are working on solitary freelancing projects or as part of a large team of UX designers. A product may carve out a niche in the fiercely competitive market with the caliber of material produced and provided for it. Any product or service's overall brand image and usability improve by providing the target audience with high-quality content that meets their requirements.
Understanding the fundamental ideas of content strategy is increasingly crucial if you're a UX designer or a design student. Adding additional abilities to your UX design portfolio, and doing so in a helpful way, learning the fundamentals and best practices can also assist you in promoting your brand.