Are you confused about the difference between on-page and off-page SEO? On-page SEO and off-page SEO target two different kinds of SEO variables, which is how they differ. This article discusses the difference between on-page and off-page SEO.
The main difference between on-page and off-page SEO is that the latter focuses on elements outside a webpage. At the same time, the former concentrates on aspects that impact Search Engine Optimization and appear on a page. This article will discuss what elements influence on-page & off-page SEO.
By delving deeper into the article, you'll understand why on-page as well as off-page SEO strategies are essential. Keep reading to learn about the power of on-page and off-page SEO.
On-page SEO: What exactly is it?
Optimizing websites for search engine visibility is known as on-page SEO (sometimes referred to as on-site SEO). Both the HTML software application and the visible information have been optimized.
Example of a tactic: Identifying pertinent subtopics
Your webpage may not contain the data people seek if it is having trouble cracking the top 10 rankings. Relate the material presented by top-ranking websites to the topics discussed by you to determine if that is the case.
Describe Off-page SEO
Any actions taken outside the website that raises its position in search engines are considered off-page SEO. This is the difference between on-page and off-page SEO.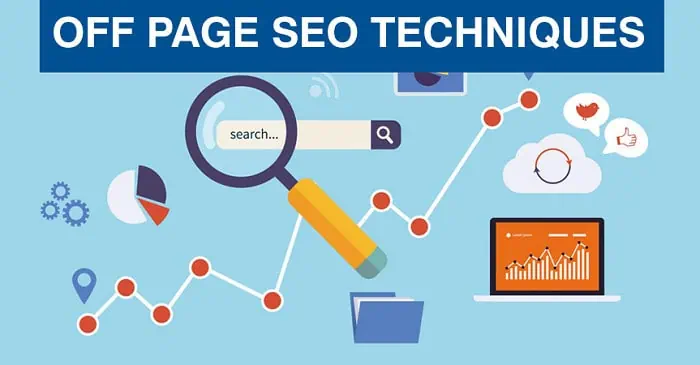 Finding potential for link building is an example tactic:
Among the most crucial ranking variables is the number of backlinks. You can "create" them and "earn" them naturally.
There are numerous link-building strategies available. Perhaps one of them involves searching for link trends among your rivals so you can obtain backlinks from the very same websites. You will require a backlink monitoring tool for that.
Finding websites that link with your competitors yet not to you is indeed the best technique to identify linking trends because backlinks on new sites are expected to have the most significant impact on ranking.
Why are Off-page as well as On-page SEO strategies Important?
In a sense, on-page SEO facto and off-page SEO factors are complementary strategies. Because Google considers both on-page and off-page ranking factors, SEO is most efficient when done using both.
You may occasionally concentrate further on one of the many SEO types based on your requirements. However, it's unlikely that you should always concentrate on just one of them.
What elements influence On-page SEO?
Below are the most crucial elements to pay attention to if you want to score higher on SERPs (search engine results pages) or get more hits on your material. There is also a discussion of ranking variables and things that can improve your SERP exposure and, as a result, drive more traffic to your website.
Search Purpose
The purpose of the search is referred to as search intent. Among the most important ranking elements is it.
Finding out what users are looking for when they enter a keyword search and afterward giving them that data is just what searching intent use in SEO entails.
Arguably the most crucial aspect of on-page SEO includes search intent. Indeed, search engines should always deliver relevant and helpful information to users.
By examining the Google results pages for a particular query and determining the 3 Cs of search queries, you may optimize your content toward search intent:
Content type: What kind of material is most prevalent? A video, a product site, a blog entry, or something else?
Content structure:

How-to tutorials, list pieces, reviews, comparisons, and other typical forms are a few examples.

Content slant:

The content piece's distinguishing features, such as "best," "affordable," and "for novices."
Once you've identified the three Cs underlying search queries, you ought to have a decent notion of the kinds of information that Google "recommends" to its clients for specific search terms.
See Also: The 7 Cs of Marketing and How to Implement Them
Content Excellence
Although searching intent is essential, it will not be enough to provide "useful and appealing content." You must also be concerned with the caliber of your content.
It appears that Google wants its algorithms to incorporate the qualities readers look for in every piece of information. Google also claims that it's material that:
Simple to read

Structured

Fresh.

Exceptional.

By E-A-T standards.

Centered on offering crucial data to address a searcher's issue.
See Also: How to Index a Website on Google Faster? Quick Google Indexing
URLs
URLs play a modest role in rankings. According to Google's John Mueller, these are overvalued in SEO, and consumers shouldn't be concerned about them because they have a minimal impact on how websites are ranked.
However, Google's SEO recommendations state that you must optimize URLs. However, it would help if you acted in the user's best interest, not Google's.
This is due to the user's ability to view the URL in both the search box and the SERPs. Viewers can then a) select which results to click on from the list above and b) determine where they are within the webpage based on that data.
See Also: What Are The Benefits Of Using Search Audience Solutions?

Page Names
Another insignificant ranking factor is page titles. Google uses these to comprehend the subject matter of your page to better suit the intention of a particular search query.
Search engines use page titles to determine what to anticipate from such a page. So that you can "satisfy" all parties, think about using these good practices:
Make sure the title is both catchy and accurate. Write a phrase that grabs users' attention and briefly explains what makes your offer unique.
Try including your target keyword in the title that sounds natural.
Fit inside 60 characters – If you go over, Google may rewrite your headline, and your summary may be truncated.
What elements influence Off-page SEO?
Similar to on-page SEO, elements that are recognized to have a direct effect on rankings and those that don't but have an influence can increase your exposure and organic hits.
Backlinks
Backlinks are indeed the cornerstone of Google's PageRank, an algorithm that evaluates the number and caliber of other pages linking to a given page to determine its "worth." They are among the most important ranking criteria, together with search intent.
Overall, a page's chances of outshining its rivals in the SERPs increase with the number of backlinks (from different websites).
Oddly, the quantity of organic engine traffic that lands on such a page increase with the number of backlinks it has.
But not every backlink will have the same effect on your results. These six characteristics help in  assessing a backlink:
Authority – If we consider links to vote, pages with many more people voting will give other websites more robust voting.

Relevance – According to Google, it's just a positive indication that the content is of excellent quality if other well-known web pages connect to the page.

Like internal links, backlinks' anchoring texts aid Google in deciphering the content of the targeted page.

Follow vs nofollow – A "Nofollow" characteristic instructs Google not to consider a link when determining a page's ranking. The inverse of that is the "follow" property. The "followed" links would typically have a more significant influence. All links, unless otherwise stated, are set to "follow" by default.

Placement: Links that are more likely to be clicked (e.g., links inside the content, connections at the top of a page) will probably carry greater weight.

Destination – Links can potentially raise the page's search engine rating. However, internal linking allows you to transfer part of that link capital to other pages.
NAP references
Online references to your company that include your name, location, and mobile number are called NAP (name, address, and phone) references.
Citations of your NAP are likely a ranking element for localized organic listings. However, they could not be very significant:
NAP references will unquestionably aid users in locating your local organization and perhaps assist you in ranking on the SERPs. So, here is a brief list of wise actions you should take:
Obtain a listing with giant data aggregators, such as Foursquare. Many local data providers obtain their data from there.

Then send your listing to the major players, such as Facebook, Yelp, Bing Places, Apple Maps, and more.

Submit to additional well-known directories in your neighborhood and sector.

Keep all citations consistent, and make sure they follow the rules.
Google My Company (formerly Google Business Profile)
Whether a Google Company Page (GBP) affects rankings isn't even relevant. Said the prerequisite for being included in Google's mapping pack.
For this purpose, a map pack displays GBPs near the location associated with your search engine. Regionalized organic results are the search results displayed after the map pack.
But generally speaking, you should get a GBP if your company operates locally. It enables Google to highlight your company in the maps pack, thus making it more straightforward for clients to find and contact you.
The second item on our list, acquiring client reviews, is made easier with the help of a GBP.
Ratings and reviews
Customer reviews affect the position of outcomes in the map pack as a ranking element, but they likely have little bearing on localized organic results.
Does Google consider every item of consumer feedback about a company? I'm not sure. Here, your safest bet would be to pay careful attention to customer reviews on GBP and reputable third-party websites (G2, Capterra, Yelp, etc.).
Similar to how things work in real life, your ranking will be impacted by both positive and destructive evaluations.
Don't forget that searchers and ratings will notice because they are prominently displayed on the SERPs.
See Also: What Are Marketing Goals? Things To Consider For Your Strategy
FAQs
What Distinguishes the Terms 'On Page' versus 'Off Page'?
Off-page SEO builds your site's credibility via content development and obtaining backlinks from those other pages. In contrast, on-page SEO concentrates on optimizing elements of your webpage that are under your control. This is the difference between on-page and off-page SEO.
Onpage SEO: What is it?
The term 'on-page optimization' (sometimes known as 'on-page SEO') relates to all actions that could be made within the webpage itself to raise its appearance in search engine results. Instances of this include steps aiming to enhance the relevant content and title tags or optimize the contents.
What Distinguishes On-Page SEO from On-Site SEO?
On-site SEO, also referred to as on-page SEO, is the process of optimizing features on a webpage to rank better and attract more appropriate visibility on search engines (as opposed to connections from other websites as well as other external signals, which are collectively referred to as 'off-site SEO').
What 3 Kinds of SEO are there?
Technical SEO is one of the different types of SEO.
SEO on-page.
SEO content.
How many Different Kinds of SEO exist?
About 12 different methods of SEO exist, and they all work to improve a website's position in search engine rankings.
What is an illustration of On-page SEO?
Making your subject and meta descriptions more optimized is an example of a site-wide SEO action item. Creating specific, high-quality content. Code optimization for your website.
What is the Purpose of off-page SEO?
Off-page SEO aids in increasing a website's online visibility and recognition. Without that, competing websites with a more significant lead will continue to rank above your website in search results. Although links weren't the only off-page indicators used by Google's algorithm to evaluate a site, they are arguably the most significant.
What do Backlinks in SEO mean?
Links are traced directly to a page from your website from other websites. Since they reflect traffic flowing to your very own website from another domain, backlinks are also known as inbound links. Your backlink profile's provision of adequate both plays a role in how Google and Bing will rank you.
What is SEO, both Online and Offline?
An instance of online SEO would be when you posted a blog on recent developments in your sector on your company's website. Offline SEO might appear if you publish a blog on business developments as a 'guest writer' on a well-known business blog and include a link to your website within this blog. This is the difference between on-page and off-page SEO.
Final Observations
Although on-page and off-page SEO may appear to be a lot to learn, they do not cover all aspects of SEO. Other SEO specialties or subdisciplines, including technical SEO, local SEO, international SEO, etc., are likely to be encountered.