Healthcare professionals must have a solid online presence in the modern digital environment. Digital marketing for healthcare professionals has become essential for interacting with patients due to the wide availability of smartphones and internet access. 
A constantly evolving sector, combined with cutting-edge technology, is digital marketing for healthcare professionals—establishing a digital connection between medical experts and their intended audience. The internet, social media, content development, email marketing, and other digital platforms are all used by today's physicians and nurses to stay in contact with their patients.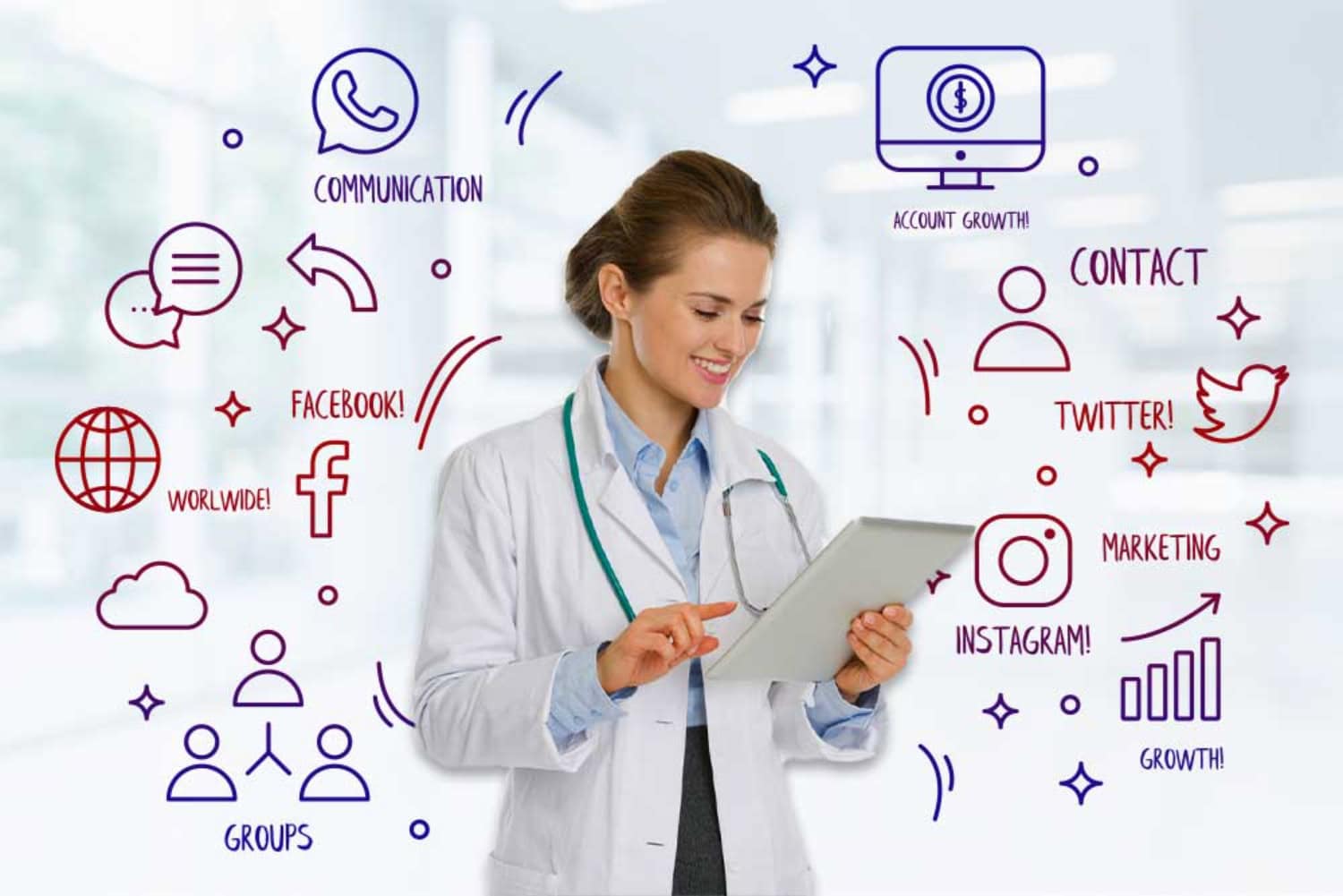 Adopting digital marketing strategies might benefit healthcare providers by enhancing patient care, gaining patients' trust, and being at the front of their minds when those patients are ill or hurt and need medical attention. Healthcare digital marketing for healthcare professionals provides the resources they need to succeed in today's networked world and enhance the health of their patients.
If you want to know more about digital marketing for healthcare professionals, please keep reading.
Digital Marketing for Healthcare Professionals: Advantages
Power up your Influence and Authority
Medical practitioners may choose from a variety of digital marketing channels. Patients may be reached from anywhere with a strong internet presence on a global scale. It is possible to demonstrate your competence and position yourself as an industry leader via well-written websites and active participation in social media. Use the tools available via digital marketing for healthcare professionals to expand your reach and accomplish more.
Create Meaningful Relationships
Thanks to technological advancements, communication between doctors and patients is easier than ever before. You may contact your target consumers more meaningfully via digital marketing. Patients' trust, and respect may be gained in an online community if you interact with them, listen to their issues, and provide them with helpful information. Patients and coworkers will have greater confidence in you because of these ties.
See also : How to Sell Digital Marketing Services? 9 Ways
Personalization and Targeted Marketing
Digital marketing for healthcare professionals allows you to provide patients with customized experiences catered to their requirements. Data-driven insights will enable you to comprehend their preferences, interests, and health issues. With this information, you can design customized marketing campaigns that connect with your target market, grabbing their attention and encouraging substantial involvement. 
Increase Visibility and Patient Acquisition
The days of depending only on word-of-mouth referrals are long gone. Numerous opportunities exist in digital marketing for hospitals to increase their exposure and attract more clients. You may guarantee that your website ranks better in search results by using efficient search engine optimization (SEO) tactics, making it more straightforward for prospective patients to locate you. You'll see an increase in patient acquisition that distinguishes you from the competition when you combine this with engaging content, online marketing, and local SEO strategies.
Monitor, Evaluate, and Optimize
The capability of digital marketing to monitor and evaluate your efforts in real-time is one of its most outstanding features. You can learn a lot about your marketing initiatives, website performance, and patient involvement by using analytics tools. With this data-driven strategy, you can continually improve your tactics, focusing your efforts to maximize outcomes and guarantee a high return on investment. Use the power of data and make wise choices to direct your success in digital healthcare marketing.
Enhanced Patient Education
Healthcare practitioners may educate their patients through digital marketing very effectively. You may arm them with helpful information about their health concerns, preventative actions, and available treatments via educational blog entries, articles, and videos. You may support patient empowerment, encourage proactive healthcare decisions, and develop a healthy society by establishing yourself as an authoritative source of information.
Strategies for Digital Marketing for Healthcare Professionals
Create an Engaging Online Presence
 The foundation of your online presence is a website that is aesthetically pleasing and user-friendly. Please make sure your website promotes your experience, patient success stories, and valuable content that informs and engages your audience. To engage visitors and entice them to continue exploring, use appealing aesthetics, easy-to-use navigation, and exciting information.
Take Advantage of SEO: 
If you want your online presence to appear high in Google's and other search engines' results, search engine optimization (SEO) is vital. To find relevant phrases that patients are looking for, do keyword research. Could you include these keywords organically in your website's headers, meta tags, and text? To reach local patients, use local SEO strategies, such as adding location-specific keywords and setting up Google My Business pages.
Online Networking Sites
Patients may be engaged, and communities can be formed via social media. For this purpose, social media platforms are like a treasure trove. Create compelling profiles on sites that cater to your target demographic. Share educational material, business news, patient success stories, and wellness advice to position oneself as a reliable information source. Engage your audience proactively, quickly reply to messages and comments, and create lasting relationships.
Content is King
Create engaging, helpful content for your target demographic. Incorporate infographics, videos, articles, and blog posts into your content strategy. Discuss issues that deal with typical patient worries, describe medical procedures, and provide wellness advice. Be imaginative, educational, and patient-focused when creating material, and make sure it is readable and shareable on various media.
Accept email marketing as a viable option
Email marketing is still a potent tool for fostering patient connections. Gather email addresses from site visitors by promoting a newsletter sign-up page or another incentive to do so. Send updates about your practice, instructional resources, and newsletters regularly. Personalize your emails to give them a sense of worth and to provide them with more ways to interact with your services.
Utilize the Power of Online Reviews
Positive online reviews may significantly impact a healthcare professional's reputation. Request positive evaluations from happy clients on websites like Google, Yelp, or those dedicated to reviewing medical services. Be professional and sympathetic while answering reviews, favorable and harmful. Managing your internet reputation is crucial to establish credibility and to draw in new patients.
FAQs
Why is digital marketing important in the healthcare industry?
Thanks to digital marketing, healthcare workers can successfully educate patients, customize communications, and reach a broader audience, enabling them to make data-driven choices for improved patient care.
How can digital marketing help hospitals?
By increasing their online presence, bringing in new patients, educating and connecting with patients, and using data for better marketing tactics and patient experiences, digital marketing benefits hospitals.
How digital marketing helps in the pharmaceutical industry?
Thanks to digital marketing, pharmaceutical firms can reach a larger audience, better advertise their goods, and interact with patients and healthcare professionals. It allows for individualized messaging, targeted advertising, and data analysis for wise decision-making.
How is digital marketing used in the healthcare industry?
Healthcare Digital Marketing enhances patient education, communication, online presence, and recruitment. Websites, social media, email marketing, and online advertising are some techniques used. It supports improved treatment by enabling connections between healthcare professionals, information sharing, individualized communication, and digital landscape adaptation.
Conclusion
Digital Marketing for healthcare professionals has immensely contributed to reach more people, educate patients, build stronger relationships, and adapt to modern technology. It has become more critical in the healthcare sector. Healthcare providers may improve patient care, increase trust, and establish themselves as thought leaders by adopting digital marketing methods.
Digital marketing has become an essential strategy for healthcare professionals and organizations to reach and engage with their target audience effectively. The healthcare industry's landscape is rapidly evolving, and patients now actively seek medical information online, making digital marketing a crucial aspect of any healthcare marketing plan.
See Also: 8 Marketing Strategies for Healthcare Organizations