Are you wondering about Dunkin Donuts' uses which pricing strategy? With more than 11,300 outlets across the globe, Dunkin Donuts' Marketing strategy is the magical hand behind the success of the delicious flavors of Donuts we get to taste today. This article will discuss Dunkin Donuts' marketing strategy.
The growth ingredients of Dunkin Donuts' marketing strategy are Partnering with social media stars with platforms like Tiktok, Inclusion of Employee participation and customized merches for customers, and Rebranding. Dunkin' Donuts primarily employs a value-based pricing strategy, offering affordable products that cater to a wide range of customers.
Additionally, we'll delve into the question, "How do Dunkin Donuts' marketing strategies benefit small businesses?" By the end of this article, you'll gain a comprehensive understanding of Dunkin' Donuts' marketing strategy and how it contributes to their success.
Check this out: Hershey's SWOT Analysis: Everything to Know
Dunkin Donuts' Unique Marketing strategy 
Dunkin's Donuts'marketing strategy has combined the marketing mix, Social media marketing, and influence promotions. Moreover, in 2019 the global bakers' confectionery company earned around $ 9.23 billion in the US alone; however, the global turnover figure is around $ 834.5 million. Along with donuts, their sales revenue includes 60% of Dunkin Donuts' beverages.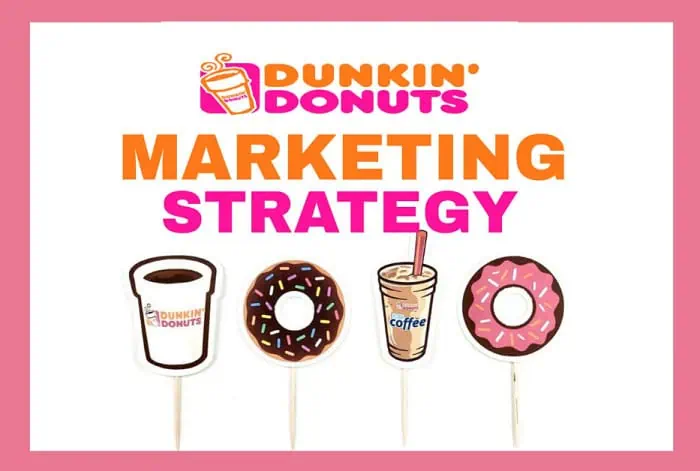 What marketing mix strategies of Dunkin donuts helped them reach a wider audience? We will learn in detail.
Mix Marketing strategies of Dunkin Donuts
The mixed marketing strategies of Dunkin Donuts are nothing but a combination of the 4Ps of marketing. They are:
Price
One of the most critical aspects of the marketing mix strategy of Dunkin Donuts is Price. The affordable pricing of Dunkin Donuts gives it a competitive edge over its competitors. Moreover, it helps generate global revenue among other confectionary brands. 
Placement 
The expanding chain of Dunkin Donuts restaurants has been serving 42 countries worldwide. Moreover, it also has a significant presence in its products online. Furthermore, the customers of Dunkin Donuts also have the opportunity to place online orders and door delivery of their products. Partnerships with delivery companies like Doordash, UberEat, and Grubhub have also helped them gain more overall revenue. 
See Also: What are Market Leader Strategies? Live Examples
Products
Dunkin Donuts initially began its journey with the production and supply of Donuts and Coffee. Later, it rolled out over 50 varieties of products, including Cheese, Egg, Maple sugar bacon, hashbrowns, and Sandwiches.
Moreover, it also introduced a wide range of refreshing drinks like iced tea, coffee, and hot chocolate what's more! Its run menu allows its employees to snack on the go for just $ 2. 
Promotion
The promotion of Dunkin Donuts is something very unique and attractive. Its bold fonts and color palette are worth mentioning regarding Dunkin Donuts' marketing strategy. The pink and purple colors on its boxes and dark fonts give its products a memorable touch. Moreover, the attractive promotional strategies of Dunkin Donuts make consumers recall the brand when their appetite calls for it. 
Hence, these are the 4Ps of Dunkin Donuts' marketing strategies. 
See Also: What are the 8Ps of Marketing? The 101 Guide
Growth Ingredients of Dunkin Donuts
The Dunkin Donuts marketing strategy is beyond the 4Ps of the marketing mix. Moreover, it consists of other growth marketing ingredients, including social media marketing, rebranding, and improved customer service. Furthermore, these ingredients have created long-lasting memories in the hearts of the young generation. 
Further, these are the three growth ingredients in detail:
An essential ingredient of the growth of the brand Dunkin Donuts is the partnership with social media stars from platforms like Tiktok. Moreover, famous star Carlie D' Amelio's partnership with Dunkin Donuts is like icing on the cake that has boosted the brand in the global confectionery market. Further, a new range of drinks, Charli's cold brew, was introduced as part of the same initiative. Due to this, the brand's sales increased from 45% to 57%. 
Inclusion of Employee participation and customized merches for customers
Another critical factor that has become one of the growth ingredients of Dunkin Donuts' marketing strategy is the inclusion of employee participation and exclusive merches for customers. Dunkin Donuts made its employees promote their brands in Tiktok. For example, the brand's employees showcased its menu and new products in such a way that the customers need not visit the outlet to know what's new with their toppings. 
Moreover, they also introduced exclusive customized merchandise for the customer. This made customers not only try out their confectionaries but also imprints of their favorite items of Dunking Donuts on merches like sweatpants, beddings, and more. 
Rebranding
One of the popular Dunkin donuts marketing strategies that became its critical ingredient for growth is its rebranding. Previously, Dunkin Donuts was rebranded and renamed into Dunkin'. The rebranding of Dunkin Donuts to Dunkin' aimed to create a new modern outlook for the brand and harmonize between the old name and the new. Moreover, their goal is also to make the brand face fierce competition in the global confectionary and beverage market. 
See Also: What is Business Planning Objectives?
How Dunkin donuts' marketing strategies benefit small businesses
Most small businesses have directly and indirectly benefitted from Dunkin donuts' marketing strategies, and moreover, helped them gain fantastic results in their business growth. These are some of the tips from the marketing strategies of Dunkin Donuts to boost small businesses:
Rolling out valuable products
Most entrepreneurs roll out products that can result in a decrease in market sales of the product. However, creating valuable products will enable small businesses to promote their products successfully.
For instance, Dunkin' introduced fresh breakfast items like donuts and coffee that became affordable breakfasts for busy working-class people.
Another essential tip that small businesses can utilize as their marketing strategies is to explore the latest social media promotion trends for their brand. For example, Dunkin Donuts used Tiktok to promote its brands, providing a competitive edge over its competitors. 
Expansion of the product line
Finally, the expansion of the product line is another Dunkin Donuts marketing strategy that other small businesses can follow. Similar to introducing new product lines like Sandwiches, fruit juices, and more. Small businesses can try expanding their product line by introducing new innovative products. Moreover, they can also improve their online presence by launching new product lines at the correct times. 
Questions to consider
What are the marketing strategies of Dunkin Donuts?
Dunkin Donuts' marketing strategies include the marketing mix, social media marketing, and influencer promotion as its recipe that attracts customers towards the brand.
What makes Dunkin Donuts the most successful brand?
Dunkin Donuts's stable and effective global brand marketing is the most successful brand.
What is the brand philosophy of Dunkin Donuts?
The brand philosophy of Dunkin Donuts is to make and serve freshes and the most delicious coffee and donuts at courteously modern and well-merchandised outlets worldwide.
Are Dunkin Donuts frozen or fresh to consume?
Dunkin Donuts are frozen confectionaries that are ready to make delicious donuts.
Conclusion
Overall, Dunkin donuts' marketing strategy is a one-of-a-kind and attractive strategy that has helped the baked confectionary brand become a heartthrob among people from all walks of life.