In recent years food delivery services have mushroomed like never before, and one prominent name is Uber Eats. If you are curious to know how uber eats make money and want to explore more about it, you have hit the right tab.
Uber Eats is a food delivery service started by Uber, a taxi service. With both services, it aims to provide its customers readily with food and ride services. Now understanding its revenue model becomes essential because it has gained momentum quickly and is an example for others.
In this article, we will look at uber eats' revenue model structure and its profitability structure. And try to find out what it has and what other food delivery services and companies can learn.
How Uber Eats Works?
Earlier, uber used to provide ride services to the customer; now, it also offers food delivery services. And it is succeeding in both service areas and growing exceptionally.
That is why looking at how Uber Eats make money to move ahead is essential. So Uber links both of them through its drivers, that form a triangle with these three parties.
For instance, you are a customer who wants food, so you must visit the uber eats app or official website. Then you can order anything you want, and any nearby Uber driver will pick up your order and deliver it to you.
Moreover, specific points make this food delivery service stand apart from other traditional food delivery services. Firstly, you will have a virtual menu on the app so that you will know what you are going to order.
And unlike any other food delivery service, it can take Pre-orders, such as you can order anything in advance. So, you can request a cake a week before your friend's birthday and get it delivered at your set time.
Advantages
Firstly, it is very convenient to use and order food.
Secondly, it offers instant delivery to its customers, and most orders only have 30 minutes delivery duration.
Whether it's payment or interface, uber eats has made them all straightforward.
Drawbacks
One major setback is the additional charges that customers have to pay.
So sometimes even a cheap thing becomes more expensive.
It has restricted areas for delivery and limited restaurant partners.
Like other delivery services, human risks are always there, like the taste and quality of the food and the delivery agent's behavior.
Uber Eats' Revenue Model
This section will discuss how Uber eats to make money to understand if it's working correctly. First of all, we should know that there are many ways in which this food delivery company makes money.
In technical terms, it uses an aggregator business and a local on-demand business model. Thus, it forms a triangle with restaurants, customers, and delivery partners who are Uber drivers.
Now it makes money through four channels: delivery charges, commissions, surge pricing, and promotions.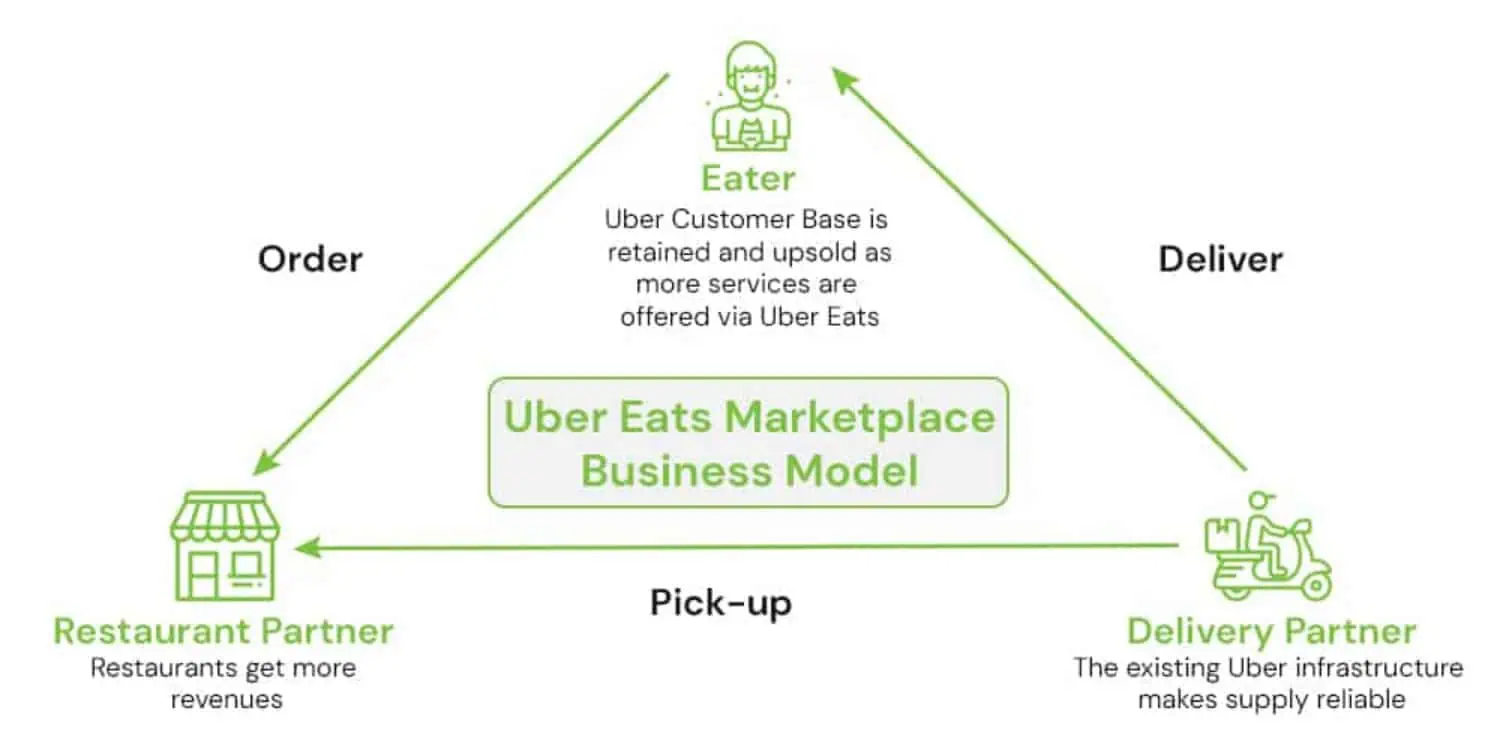 The first and most common way to make money is through commissions that it charges for delivery. Now, its drivers, restaurant staff, or customers pick up and deliver the food, making several delivery models available.
Second are the delivery charges that Uber eats from its customers. However, unlike the commission, its delivery charges are not fixed and depend on various factors. Some of them are driver availability, distance for food delivery, and location of restaurants, to count a few just.
Also, if certain brands and restaurants want to advertise on uber eats, they have to pay promotional fees. In this way, uber eats makes money from brands, and these companies will get public exposure.
Another channel through which uber eats makes money is through surge fees, also known as busy fees. The company charges it when there are more orders from a place, thus calculating the amount on given factors.
The system considers factors such as the number of available drivers in the area and the total number of orders. Based on this, it can be shallow, and if the demands are high in numbers, then as much as three times too.
Uber Eats' Profitability
To understand how uber eats makes money, it is essential to know its profitability structure.
It is earning profit through all four channels of revenue. However, they are not equally contributing, but their share is considerable.
It gets more revenue from commissions and delivery charges, and promotions and surge prices are significant. In addition, many other factors make uber eats earn more profit than others.
In the commission channel, most food delivery services don't charge any or very minimal fees. However, it charges 6% even for self–pick up from the customers. Moreover, it has a surge fee that very few or even no food delivery service has.
That is why its revenue model is different from other traditional food delivery companies, and it is also the reason why it is making more money than others.
Challenges Facing Uber Eats
In the above sections, we discussed Uber Eats' revenue model and factors contributing to its profitability. But in this section, we will talk about what challenges it has to face shortly.
It will improve our understanding of how Uber eats and makes money. The first and foremost setback to the company was because of the COVID–19 pandemic.
It shook the world, and its impacts are clear on food delivery companies like uber eats. So, it has to prepare itself to be ready for such adverse conditions.
The next obstacle is the changes in various countries rules and regulations regarding food delivery services. With time, several countries are realizing the need to control such food delivery and other services and making new rules for them.
Therefore, uber eats also has to comply with such rules and thus has to change some of its limitations too.
Altogether these challenges, with some other minor obstacles, can affect the functions and, thus, profitability of uber eats. Therefore, if this food delivery service wants to succeed, it must consider all the challenges in its path.
FAQs
Does Uber Eats deliver quality and safe food?
This food delivery service claims to deliver only quality and hygienic food to its customers. However, we can't deny the possibility of bad-tasting food being delivered. To eliminate such conditions, uber eats only partners with standard restaurants known for their delicious and hygienic food.
How do uber eats drivers make money?
The Uber Eats drivers earn money by completing food delivery tasks through the app and are paid a fee for each delivery. The fee is based on distance, time, and demand, and the drivers can also earn additionally through customer tips.
Is Uber Eats making a profit?
Uber Eats reported a gross booking of $30 billion and a net revenue of $1.9 billion in the fourth quarter of 2021. Uber Eats revenue has grown steadily recently, but the company has also reported significant losses in the past years. It is a little tricky to determine whether it is making a profit.
Is Uber Eats B2B or B2C?
Uber Eats is primarily a business-to-consumer (B2C) platform because it connects customers to uber eats and restaurants. However, it is also a business-to-business (B2B) platform, a business between uber eats and restaurants.
Conclusion
Thus, in this article, we have seen how uber eats make money and how it satisfies the needs of its partner. Although it is not the single one out there, it is for sure that with its remarkable growth, it is beating others.
Not only it has a superb marketing strategy, but how it is balancing its partners is also exceptional. However, that is only part of this company. If it continues like this, then it has the potential to achieve much bigger goals too.
With its growth chart, everyone can see and analyze that Uber Eats has a long way to go and will continue to succeed in the future too.