To gauge the external factors that could impact Apple's productivity and profitability, we will conduct a PESTEL analysis of Apple. Apple can stay ahead of the game by thoroughly assessing Political, Economic, Sociocultural, Technological, Legal, and Environmental elements.
PESTEL analysis is a tactical tool that examines the outside forces influencing a company's operations, expansion, and profitability. It considers political, economic, sociocultural, technological, legal, and environmental factors.
It all began with just three men – Steve Jobs, Steve Wozniak, and Ronald Wayne– who founded what is now an international technology behemoth based out of Cupertino in California- Apple Inc. Today it creates software applications for consumers alongside developing devices that set them apart from its competitors, such as the iPhone, iPad, or MacBook Pro (to name a few). The global phenomenon that is Apple firmly holds its place amongst the leading businesses across the globe!
Political Factors
The following is a PESTEL analysis of Apple with political influences:
Laws and rules impact the corporation's production, pricing, and distribution techniques.
Political unrest, war, and acts of terrorism can all significantly affect Apple's operations. These occurrences have the potential to alter supply networks, reduce consumer confidence, and raise production costs.
Government stability in the nations where Apple does business is a significant determinant. Political turbulence can cause social unrest, economic uncertainty, and policy changes that could harm Apple's business.
In conclusion, there are a variety of political issues that have an impact on Apple and that can have a significant effect on the company's development and profitability.
Economic factors
The following is a PESTEL analysis of Apple with economic factors: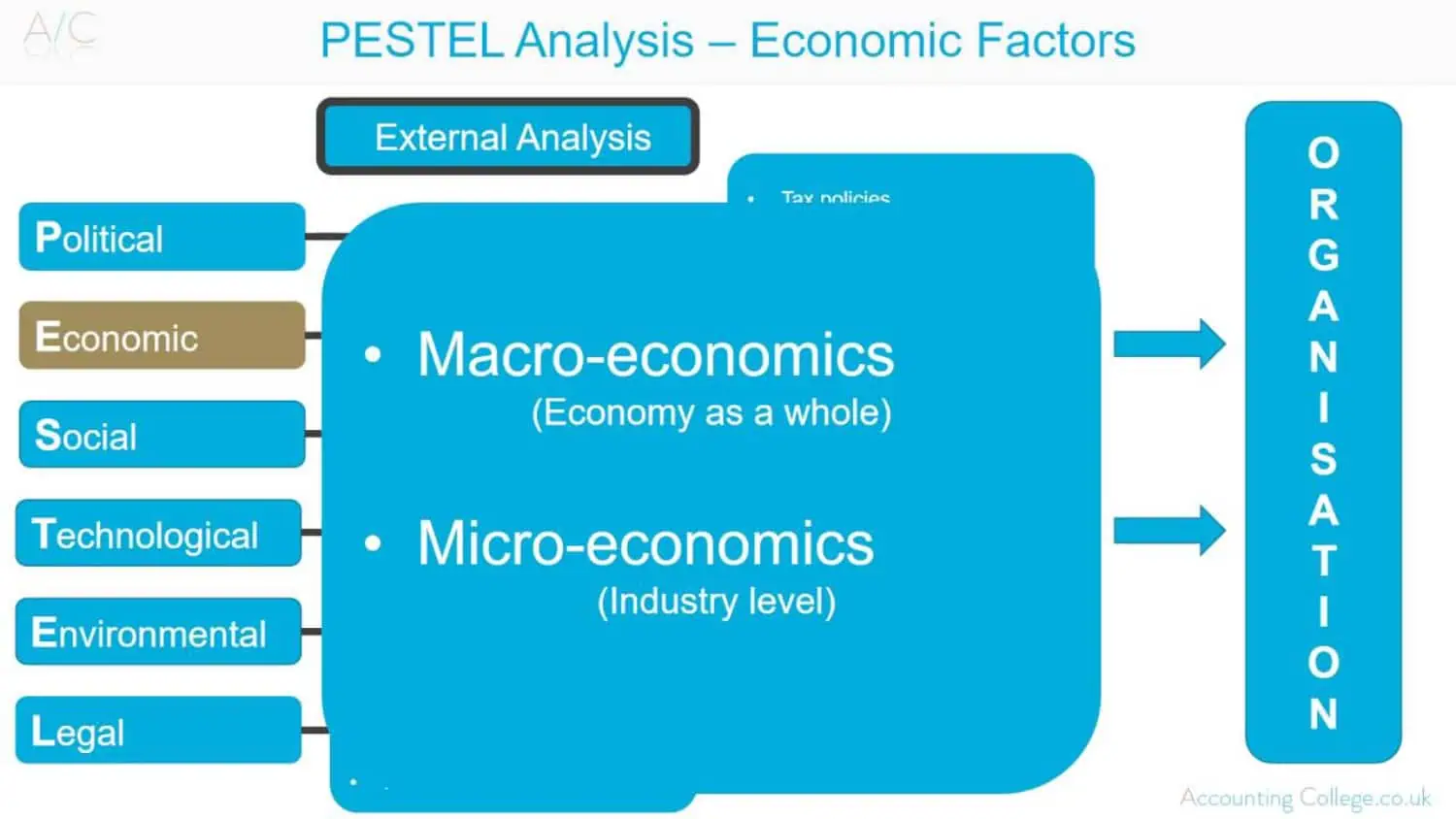 The world economy significantly impacts Apple's company, and economic growth, inflation, and exchange rates are the most critical variables that affect the organization's performance.
The leading economic indicators impacting Apple are GDP growth, consumer spending, interest, and unemployment. Apple's financial performance can be severely affected by inflation and exchange rates. Changes can influence Apple's product prices in inflation rates, and the company's worldwide supply chain and profitability can be affected by changes in exchange rates.
The success of Apple can be due to various economic circumstances that impact the corporation.
Sociocultural Factors
The following is a PESTEL analysis of Apple's sociocultural factors:
Societal changes such as rising environmental awareness, technological breakthroughs, and shifting consumer taste significantly impact Apple's business.
Apple must adapt to these changes to be competitive as consumer behavior and preferences constantly change. As a result of the rise of mobile devices, Apple has responded by refocusing on mobile devices like iPhones and iPads.
Demographic factors, including age, income, and educational attainment, primarily determine Apple's target audiences. Additionally, income level and education level both have an impact on how affordable Apple's goods are.
In conclusion, several social influences on Apple are dynamic. Apple must keep a close eye on societal trends, shifting consumer preferences and behavior, and demography to be ready to adjust to any changes that may impact its business.
Technological Factors
The following is a PESTEL analysis of Apple's technological factors:
As one of the top players in the tech industry, Apple consistently strives to stay ahead by innovating and applying technologies suited to evolving times. Prominent among these are IoT or the Internet of Things, AI or Artificial Intelligence, and AR or Augmented Reality—established modernizations whose adoption could revolutionize one's relationship with technology, ultimately impacting Apple's revenue streams. As a leading company in the technology industry, Apple faces constant pressure to produce cutting-edge devices that meet or surpass consumer standards. Staying mindful of industry advancements while maintaining high levels of innovation is critical for continued relevance and revenue growth for this tech giant – thus highlighting how key technical variables are in determining their triumph within this crowded marketplace.
Legal Factors
The following is a PESTEL analysis of Apple with  legal considerations:
Data protection legislation, including GDPR at both local and international levels, alongside other legal considerations, such as anti-trust law, play an essential role in shaping how businesses like Apple conduct themselves. Specifically for Apple concerning data management- regulatory frameworks remain tangibly significant for maintaining equitable usage patterns around User information privacy, etcetera. Furthermore, the company relies on multiple facets of patent/trademark/copyright protections.
Ultimately other legal frameworks bind them – Consumer protections encompassing advertising standards while ensuring safe, secure products. In today's litigious environment, even successful businesses like Apple find themselves grappling with complex legal problems – such as those involving misleading claims about iPhone battery life which are under investigation by the U.S. Federal Trade Commission (FTC). Companies must adhere closely to pertinent laws and regulations while prioritizing intellectual property protection and responsible consumer policies to navigate such situations without harming their reputation or market share.
Environmental Factors
The following is a PESTEL analysis of Apple's environmental factors:
Industries known for their high levels of greenhouse gas emission have come under increased scrutiny from governments and activists alike. Among them stands out as one of the most prolific -Apple – grappling with navigating stringent regulatory frameworks around hazardous electronic waste in Europe.
As a result, the company is ideating new initiatives and projects, including its ambitious 'Renewability Projects,' which aim to reduce its carbon footprint while promoting sustainability. In keeping with its commitment to sustainability, Apple has declared that it will soon be conducting all of its operations on renewable energy sources, coupled with an initiative to recycle e-waste. The firm is attempting to decrease carbon emissions across its supply chain and has also introduced eco-friendly measures into the design of its products.
To sustainably combat environmental issues, adhering to ecological standards, implementing sustainable procedures in daily conduct, and backing green-oriented initiatives are crucial for Apple.
FAQs
What is the purpose of conducting a PESTLE analysis for a company like Apple?
Apple may make wise strategic decisions and modify its business strategy by analyzing the Political, Economic, Sociocultural, Technological, Legal, and Environmental issues that may impact the organization.
What are some examples of political factors that can impact Apple's operations?
Government rules and policies, tax laws, trade conflicts, and intellectual property rights are a few political issues that may impact Apple's business operations. Changes in governmental leadership and political unpredictability may also affect Apple's business climate.
How will consumer behavior change impact Apple's business?
A shift in customer behavior may affect Apple's company by reducing or increasing demand for its goods and services. For instance, Apple's marketing and product development plans may be affected if customers prefer less expensive or environmentally friendly products.
What are some of Apple's environmental policies and initiatives?
Apple has several environmental efforts and policies, such as employing renewable energy, cutting greenhouse gas emissions, and avoiding supply chain waste.
Conclusion
Apple's PESTEL analysis shows that the firm operates in a dynamic and complex global context. Apple's business gets influenced by political, economic, sociocultural, technological, legal, and environmental issues, and these variables affect Apple's operations, expansion, and profitability.
Given that Apple must constantly adjust to shifting market conditions, consumer tastes, and technical breakthroughs, the ramifications for the company's future growth and profitability are considerable. However, the business's solid brand recognition, devoted clientele, and inventiveness lay the groundwork for future success.
Apple must concentrate on compliance, innovation, adaptation, diversification, and teamwork to handle the difficulties and take advantage of the opportunities. Apple must maintain its commitment to technological innovation and investment, adjust to shifting consumer preferences, broaden its product line, and forge strategic alliances and partnerships.
SEE ALSO: SWOT ANALYSIS OF APPLE